Sun 17 Jan 2010, 13:45 PM | Posted by admin
Tags: Articles
Jyoti Basu, who died here Sunday, resigned from active politics in 2000 but continued to guide the communist movement in India.

Following is a chronology of his life:

- Born in Calcutta (now Kolkata), July 8, 1914.

- Graduated from Presidency College with honours in English. He did his Bar at Law from London where he got introduced to Marxism and politics.

- Returned to India in 1940. Joined Communist Party of India (CPI).

- In 1944 he was a functionary of Bengal railway workers' union.

- In 1946 he was elected to the Bengal legislative assembly, defeating Humayun Kabir of Congress.

- He won from Baranagar assembly constituency in 1952, 1957, 1962, 1967, 1969 and 1971. He lost the seat in the 1972 snap polls.

- In 1964, he helped set up the Communist Party of India-Marxist (CPI-M).

- In 1967, he became deputy chief minister in a coalition government in Bengal.

- Became chief minister of West Bengal June 21, 1977 and headed the Left Front government till Nov 6, 2000.

- Narrowly missed a chance to become India's prime minister in 1996 after his party's veto. He later called the party decision a "historic blunder".

- In 2000, he announced his retirement from active politics and stepped down as chief minister on health grounds.

- In 2004, he played a key role to stitch an alliance between the Left parties and the Congress-led United Progressive Alliance (UPA).

--Indo-Asian News Service


Sun 17 Jan 2010, 13:34 PM | Posted by admin
Tags: Articles
He was a Marxist to the core who was equally at home with bourgeois democracy and capitalist ideas. If destiny had been on his side, Jyoti Basu would have become India's prime minister in 1996.
But that was not to be, thanks to his dogmatic Communist Party of India-Marxist (CPI-M) which ruled that no one from its ranks could head a multi-party regime that would not be able to implement Marxist programmes.
Basu swallowed the diktat silently. But within months he questioned the wisdom of fellow Stalinists and described the party's decision not to form the centre-Left United Front government as a "historic blunder".
That perhaps was the only time the very 'bhadralok', or gentleman, Basu broke the CPI-M's strict rules of discipline. He got away with it because he was the prima donna of Indian Communism, a product of aristocracy who embraced Marx in London and became the longest serving chief minister in the country.
By the time he gave up the reins of West Bengal in 2000 citing health grounds, Basu had been the chief minister for an incredible 23 uninterrupted years. He was widely respected across the political spectrum. Many a prime minister consulted him on matters of national importance.
Of course he had his critics. But for someone married to an ideology that has had few takers in India, he was one of the most successful politicians in the world's largest democracy.
Born July 8, 1914, in Kolkata, the son of a doctor was schooled in Loreto and St. Xavier's. He graduated from the Presidency College of Kolkata with an honours in English in 1935.
He then studied law in London where he came in contact with the Communist Party of Great Britain (CPGB), the alma mater of many an Indian Communist.
Basu's early associates included the veteran British Communists Harry Pollitt, Rajani Palme Dutt and Ben Bradley. In London, he joined the India League and the Federation of Indian Students in Great Britain.
On returning to India, Basu joined the then undivided Communist Party of India (CPI) and in 1944, three years before the British Raj ended, started working among railway workers.
He got into electoral politics in 1946, getting elected to the Bengal Legislative Assembly.
Winning elections then became a habit for Basu. After independence, he was repeatedly elected to the West Bengal legislature, starting in 1952.
When the CPI split in 1964 parallel to the Sino-Soviet break-up, Basu became one of the nine founding politburo members of the more radical CPI-M.
West Bengal was in turmoil in the late 1960s, with a section of the CPI-M revolting in a small West Bengal village known as Naxalbari and igniting a bloody Maoist movement.
Two shaky and shortlived governments took office in West Bengal in 1967 and 1969, and Basu was the deputy chief minister -- his first stint as an administrator.
It was in June 1977 that Basu became the West Bengal chief minister heading a multi-party Left Front government, a post he himself decided to give up almost a quarter century later.
Under Basu's leadership, the CPI-M expanded its social base in villages. His government brought about sweeping agrarian reforms, devolved power to rural bodies or panchayats and undertook rapid agricultural development.
The Marxists soon developed a well-oiled election machinery that ensured victory in one election after another, stunning friends and foes alike and becoming a rarity of sorts in democratic politics around the world.
Basu led the Marxists to power five times in a row in West Bengal.
Along with his scholarly finance minister Ashok Mitra, he vigorously sought more powers for the states. He also played a key role in bringing together non-Congress state governments and parties in the 1980s.
He took an active part in the confabulations in the run up to the formation of non-Congress governments in 1989, 1996, 1997 and 2004, in the process becoming a national figure.
His tenure as chief minister was not without allegations of corruption, especially against his industrialist son. But these remained just allegations.
While the agrarian reforms in West Bengal were hailed as a model across the country, Basu was widely faulted for his poor showing in various other sectors including industry, education and health.
Even after relinquishing office as chief minister in 2000, Basu continued to play a big role in the CPI-M and Indian politics till repeated bouts of illness finally took their toll.
--Indo-Asian News Service
Mon 7 Dec 2009, 12:37 PM | Posted by admin
Tags: Articles
India on Sunday became the number one team in Test rankings after they spanked Sri Lanka by an innings and 24 runs in the third and final Test to clinch the three-match series by a 2-0 margin.

Needing just four wickets to record an emphatic victory, the hosts took just about 40 minutes to polish off the visiting team's tail to record their second consecutive innings victory.

Resuming at 274 for six, the Sri Lankans lost their heroic captain Kumar Sangakkara (137) in the very first over and were bundled out for 309 with Zaheer Khan being the pick of the Indian bowlers with figures of 5/72.

The Sunday crowd at the Brabourne Stadium, hosting a Test match after a gap of 36 years, witnessed a historic moment as Mahendra Singh Dhoni and his men crowned themselves the number one team.

The crowd erupted into a frenzy as Muttiah Muralitharan edged a flighted delivery from Harbhajan Singh to Dhoni to bring down the curtains on the Lankan innings.

The Indian players hugged each other and a beaming coach Gary Kirsten greeted them as they returned to the pavilion.

The victory has given India three points in the ICC rankings, taking their overall tally to 122 and leaving them ahead of South Africa and Sri Lanka in the ICC table.

The teams will now gear up for two Twenty20 matches in Nagpur and Mohali followed by a five-match one-day series which begins at Rajkot from December 15.

The match would be best remembered for the blazing 293-run knock that Indian opener Virender Sehwag played. The right-hander, however, missed out on becoming the first batsman in the game's history to score three triple tons.

Such was India's dominance that Dhoni's men completed the comprehensive victory in just 7.4 overs this morning.

Zaheer hastened Lanka to their doom by claiming three of the last four wickets to finish with his eighth five-wicket innings haul.

The 31-year-old pacer's figures in the morning sessions read an astonishing 4-1-21-3. Sri Lanka needed 59 more runs to make India bat again but with just four wickets in hand to start the day, only a miracle could have saved the match for them.

After having brought down the visitors to their knees last evening, India dismissed Sangakkara off the third ball to start their victory march.

Zaheer swung the ball a bit away and Sangakkara, who struck his 20th four off his previous ball, was drawn to it like a magnet but only managed to edge it to counterpart Dhoni.

He could add only four runs to his overnight score and fell for 137 in 349 minutes after having prevented the hosts from sweeping to victory last evening.

Zaheer then dismissed Rangana Herath in his third over, caught by a diving Pragyan Ojha at short mid-wicket while attempting a pull.

Muthiah Muralitharan then used the long handle against Zaheer by carting the bowler for three fours in one over before the left-arm pacer sent back overnight unbeaten batsman Nuwan Kulasekara.

Kulasekara, resuming at 9, could not negotiate a rising ball from Zaheer and edged it to second slip fielder VVS Laxman. He added 10 more runs including two boundary hits to his individual score.

Harbhajan then brought down curtains on the match by having Muralitharan caught behind as he tried an almighty heave to give Dhoni his sixth catch in the match.

Spinners Harbhajan, who looked unimpressive for the major part, and Pragyan Ojha finished with two wickets apiece for 80 and 84 runs respectively while S Sreesanth bagged 1 for 36.

It was the second successive innings victory for India following their resounding win by an innings and 144 runs in the second Test at Kanpur. The first Test at Ahmedabad was drawn.

It was also India's 101st Test win and their fifth at this venue in 18 matches.
Tue 10 Nov 2009, 16:43 PM | Posted by admin
Tags: Articles, Foods & Beverages, Health & Fitness, Religion
A look at the Lawful (Halaal) and the Prohibited (Haraam)in Islam and the reasons behind the rulings.
The lawful (halaal) and prohibited (haraam) in Islam

Although there are many important aspects in daily living which are Lawful or Prohibited in Islam, for the purpose of this article, only the most common ones will be discussed together with the reasoning behind why it is either forbidden or allowed.

One of the first things every Muslim child learns is what food and drinks are allowed (Halaal) and prohibited (Haraam) in Islam.

With the exception of pork and animals or birds which tear their prey apart (namely: lions, falcons, eagles, hawk, leopard, wolf etc.), all other meat is lawful (halaal), in Islam; provided that these meats, meet certain criteria.

An important ruling to bear in mind is the fact that the meat of sheep, cows, chicken, buffalos etc will only be permissible if the animal has been slaughtered in the correct Islamic manner, which entails that the animal should not be allowed to suffer, it should be killed in the quickest and least painful manner, by ensuring that the blade of the knife being used for slaughter is sharp and that the slaughtering procedure is done quickly. The name of Allah (God) should be uttered during the slaughtering process. If the above criteria are not met the animal becomes prohibited for Muslim consumption. The reason for this being that the animal was made to suffer unnecessarily.

The flesh of the swine (pork, bacon, ham and all its related products including pigskin) is forbidden to all Muslims regardless of the manner in which it is slaughtered. The reason for this is that Islamically the Pig is considered an unclean animal that carries disease. Recent research has proved this point, since studies has shown that Pork carries a deadly parasite called Trichina, and for this reason Allah in his wisdom has prohibited the consumption of this meat.

Any animal, which is dead before the slaughtering process, too, is considered unlawful. The reason for this being that the animal may have died due to some disease or due to having eaten some poisonous plant etc, and once again this meat could be harmful to the person eating it. Another reason for its prohibition is so that other animals in the food chain will have food and thirdly, so that the farmer or owner of the animal will take good care of it so that they can sell them and earn a living. In this way the animal is protected from being neglected or left to contract illnesses and die.

The flesh of a dead animal is also prohibited in Islam. If the animal is still alive after having been injured and is then slaughtered the animal will then be lawful for Muslim consumption.

There are four types of ways in which an animal dies that makes it unlawful in Islam.

1. An animal that dies due to strangulation

2. An animal that is gored to death by the

horns of another animal

3. An animal that dies due to a fall from a

high place and

4. The animal that had been partly eaten by

wild animals.

The reason for each of the above is to teach an owner of these animals to look after the animals, because if anything happens to these animals and they die, the owner because of his negligence will lose his customers, since this flesh is now prohibited for Muslim consumption. In this way Allah ensures the safety and good care of the animals.

Islamically all Marine life (animals that live in water and that cannot survive outside of it: fish, whales etc.) is Lawful. Whether the animal was found alive or dead and regardless of whether the animal was whole or in pieces.

The only time any of the above-mentioned prohibited meats become permissible, is if the person is starving and in danger of losing or putting his life at risk.

Any Alcohol, which causes intoxication, is forbidden in Islam. The reason for this being that intoxication has harmful effects on the individuals mind, his health, his work, every aspect of his life, in a nutshell anything that befogs the mind regardless of the quantity whether it be one teaspoon or a litre is forbidden in Islam.

Drugs such as opium, heroin, cocaine etc. like alcohol impairs the reasoning and effects sensory perception, and are therefore also prohibited.

Tattoos are also forbidden as it permanently disfigures the body while causing immense and unnecessary pain during the tattooing process. Temporary designs on the hand and feet done with henna are allowed for ladies in Islam, since they are harmless, do not cause pain and are not disfiguring or permanent.

Interest: Collecting interest on monies that are in the bank or lent to someone is prohibited. Accepting interest makes people lazy to work hard. Usually wealthy people have the money to lend to poorer people; interest is prohibited in order to safeguard the poor from being exploited by the rich.

Divorce is the one aspect in Islam, which is allowed, which the Prophet Muhammad (Peace Be Upon Him) disliked immensely and advised only in extreme cases. Hitting a woman on her face or in such a way that she is injured or made to suffer pain is prohibited in Islam, as it is an insult to a woman's dignity.

Anal Sex and Sexual Intercourse during menstruation is prohibited in Islam, as both, if practiced can be harmful to the health.

Gambling in any form is prohibited in Islam, whether it takes place in a Casino, or it is in the form of a lottery or for a charitable organization, any game of chance is considered gambling. The reason for this being that the person who gambles, depends on his winnings to support him and in the process gives up honest, hard work. Gambling because of its addiction is also a danger to the individual, because it dulls his sense of value; and in turn he becomes a danger to society.
Written by Fatima Rasool -
Tue 10 Nov 2009, 11:42 AM | Posted by admin
Tags: Articles
New Delhi: Four Maharashtra Navnirman Sena MLAs have been suspended after they attacked Samajwadi Party leader Abu Azmi on Monday, insisting he take his oath in Marathi instead of Hindi.

A privilege motion was passed by Minister Harshvardhan Patil on Monday, asking that the four MLAs be suspended.

The motion was accepted and passed by the Speaker of the House after which the four - Ram Kadam, Vasant Gite, Shishir Shinde and Ramesh Wanjale - were suspended from the House.

All four are first timers and have been suspended for four years. They have also been barred from entering Mumbai and Nagpur whenever the Assembly meets in the two cities.

A ruffled Azmi, earlier the Samajwadi Party MP from Mumbai, demanded the arrest of MNS chief Raj Thackeray.

Maharashtra Chief Minister Ashok Chavan defended Abu Azmi saying, "The Constitution allows a member of the Assembly to take oath in any language."

Raj Thackeray's MLAs surrounded Abu Azmi and pushed and slapped him. MNS MLA Ram Kadam hit him on the face and chest shocking the 288-member House.

Raj Thackeray had issued a diktat a few days ago that ALL mlas must take oath in Marathi, but Abu Azmi had insisted that he would take his oath in Hindi and dared the MNS to act against him.
Sat 31 Oct 2009, 11:48 AM | Posted by admin
Tags: Articles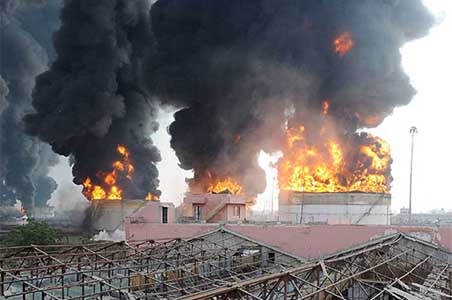 The nightmare continues for lakhs of people in the Pink City. The massive fire that broke out at a major depot of the Indian Oil Corporation in Jaipur on Thursday evening, is still raging - and may take hours to burn itself out.
Two more people have died of burns, taking the official death toll to six. Over 150 are injured and 5 lakh people have been evacuated from the area. The losses are estimated at over Rs 300 crore.
A central committee will probe the blaze and submit its report within six weeks. Meanwhile, the government has decided to relocate all oil depots of IOC, IPCL and BPCL outside the city and 30 km away from the present location.
Thu 3 Sep 2009, 10:41 AM | Posted by IndiaVision News
Tags: Articles, News, Politics
HYDERABAD, India (Reuters) - Andhra Pradesh chief minister Y.S.R Reddy was killed after his helicopter crashed in a dense swathe of forest known to be a stronghold of Maoist rebels, Indian television channels reported.
Rescuers on Thursday found the helicopter after it went missing for almost 24 hours, officials said.
"I am extremely shocked…," Andhra Pradesh Governor Narayan Dutt Tiwari told the Times Now news channel.
"It is a very sad day," he said.
Reddy was on a tour of a rural district when his Bell-430 helicopter went missing on Wednesday over a dense jungle.
CNN-IBN Adds:

Hyderabad: Andhra Pradesh Chief Minister Y S Rajasekhara Reddy and four other persons were killed in the helicopter that crashed in the Nallamala Hills in bad weather on Wednesday losing radio contact an hour after take off from Hyderabad.

The bodies of 60-year-old Reddy - who led his Congress party to a spectacular second consecutive victory in the Lok Sabha and Assembly polls - his Special Secretary P Subramanyam, Chief Secretary A S C Wesley, pilot Group Captain S K Bhatia and co-pilot M S Reddy were found on Rudrakonda Hill, 40 nautical miles east of Kurnool.

His Bell 430 chopper went down in bad weather.

Army commandos recovered the dead bodies of all the five people - including the Chief Minister - who were on board the twin-engine Bell chopper.

An Indian Air Force helicopter had on Thursday morning located the mangled remains of the helicopter.

The news of the tragedy filtered out after a meeting of the Congress core group at the Prime Minister's residence, but fears had been growing since Wednesday night when search operations to locate the missing chopper were unsuccessful.

The helicopter took off at 0835 hrs IST from the old Begumpet Airport in Hyderabad on Wednesday.

The Chief Minister was on his way to Chittoor, 588 km from Hyderabad, for a function when his helicopter went missing in inclement weather around 0930 hrs IST on Wednesday in the dense Nallamalla forests.

Reactions from political leaders started pouring in soon after the tragic news was announced.

"We are in total shock, it's a tremendous loss for the Congress party, for the entire state of Andhra Pradesh. We are yet to come to terms with this news. Sonia Gandhi is in constant touch with the family and is monitoring the situation closely. The senior leaders who have been deputed in this matter will brief the press shortly. He was an utterly practical human being, he was always moving on to achieve his goal, he was the man on the move, it's very sad that life has got him to such a tragic end. He was a dynamic Chief Minister. It is a tremendous loss to Andhra Pradesh and the Congress party. It's a terrible time because he could have achieved so much as the head of the state," said Congress Spokesperson Jayanti Natrajan.

State Congress Chief, D Srinivas said, "I don't think I will see another leader like him in this lifetime."

TDP leader Yerran Naidu said, "Today is a sad day. YSR Reddy was a great leader, I knew him for 30 years. We were really hoping that he would be found safe. We are very shocked."

"I had hoping till the last minute that some miracle will happen. If the party is feeling this way I can't imagine what the family is going through. He was the kind of leader who could turn probability into possibility," said Congress leader Renuka Chowdhary.

STATE PLUNGES INTO GLOOM, CONG IN MOURNING

Andhra Pradesh plunged into gloom Thursday as it became known that Chief Minister Y S Rajasekhara Reddy had died in a helicopter crash in the dense Nallamalla forests.

People cried inconsolably in the state secretariat, the chief minister's camp office and Gandhi Bhavan, the headquarters of the ruling Congress party.

"He is my God. I can't believe he is no more," wailed a Congress party worker.

"He gave life to several people through Rajiv Arogyasri (health insurance scheme for poor). Nobody had imagined he will lose his life this way," said another Congress worker.

The Congress flag will fly at half mast.

Hyderabad: The bodies of Andhra Pradesh chief minister YS Rajashekhara Reddy and his four co-passengers were brought to Kurnool for autopsy at about 1430 hrs IST on Thursday.

A huge crowd of mourners had gathered near APSP parade grounds in Kurnool where an IAF helicopter carrying the bodies landed. Security personnel had a tough time controlling the crowd.

The bodies, which have been charred beyond recognition, have been airlifted by a MI-8 helicopter of the Indian Air Force and have reached Hyderabad.

A large number of Congress workers and supporters have also gathered outside the Congress office in Hyderabad. Many of them were seen wailing and carrying placards praising the dead Andhra chief minister.

The chief minister's will be kept at Lal Bahadur Shastri Stadium in Hyderabad for the public to pay their homage.

His body will be flown to his hometown Pulivendula in Kadapa district on Friday when a state funeral will take place, Andhra Chief Secretary P Ramakanth Reddy said.

The Tricolour will fly at half mast in Delhi and all state capital on September 3 and 4. All Central and state government offices in Andhra Pradesh will remain closed September 4.

The mangled and burnt remains along with the charred remains of the YSR and his four co-passengers on board the helicopter was spotted on the top of Rudrakonda Hill, 74 kilometres east of Kurnool by Indian Air Force helicopters at 0830 hrs IST, nearly 24 hours after it lost contact with the Air Traffic Control at Begumpet Airport in Hyderabad.

The helicopter deviated 18 km from its path towards east, hit a cliff and crashed.

A team of Army para commandos had to slither down with the help of a rope from a rescue helicopter to reach the top of a hill deep inside Nallmalla forest to recover the charred remains of YSR, his Principal Secretary S Subramanyam, Chief Security Officer ASC Wesley, pilot Group Captain S K Bhatia and co-pilot M S Reddy.

According to Andhra Finance Minister K Rosaiah, Chief Secretary and Director General of Police SSP Yadav the twin-engine Bell 430 helicopter deviated 18 kilometres from its flight path over the Nallamalla forest in inclement weather, hit a hill and crashed killing all its occupants.

However, it is not yet clear why the helicopter, which was on its way to Chittoor from Hyderabad, deviated from its assigned path.

Except the tail portion, the body of the helicopter of AP Aviation Corporation was completely destroyed in the crash.

The tragic confirmation of the death and YSR and his co-passengers came in after a massive search operation involving the Indian Army, IAF, Central Reserve Police Force, Andhra Police's Greyhound commandos, specialised anti-terrorist force Organisation for Counter Terrorism and Operations (Octopus) and the new anti-Naxal force Combat Battalion for Resolute Action (Cobra).

CRPF personnel and Army jawans continued the search operation throughout the night inside the forest with the help of night vision devices even as aerial search operations had to be halted because of bad weather.

The IAF also pressed into service Su-30 MKI fighter aircraft which have synthetic aperture radar for high resolution ground mapping in and around Kurnool.

Satellite imagery was also used to trace the missing helicopter. Indian Space Research Organisation (ISRO) had also provided special low flying aircraft and remote sensing equipment and satellite imagery to aide the search operation.

Reddy had taken off for Chittoor from Hyderabad 0838 hrs IST for a government function as part of his new reach-out programme where he conducted surprise visits to villages around the state to check on development projects.

The chief minister was going to Chittoor to take stock of the following schemes - Arogya (free health care scheme), pension plans for aged and ration cards for all and NREGA implementation.

STATE FUNERAL FOR YSR

YSR will be given a state funeral on Friday while the national flag will fly at half mast in Delhi and all state capitals on Thursday and Friday, the Government announced.

Information and Broadcasting Minister Ambika Soni told reporters after a cabinet meeting in the Capital that the tricolour would also fly at half mast all over Andhra Pradesh in tribute to the chief minister.

All central government offices in Andhra Pradesh will remain shut Friday, Soni added.

Thursday's cabinet meeting, presided over by Prime Minister Manmohan Singh, observed a two-minute silence in memory of the chief minister.

(Witn inputs from agencies)
Fri 14 Aug 2009, 12:15 PM | Posted by admin
Tags: Articles, Internet, Science
To commemorate the 90th birth anniversary of Vikram Sarabhai, the father of the Indian space programme, the Indian Space Research Organisation (ISRO) on Wednesday unveiled its most ambitious people-oriented project yet. Bhuvan – Sanskrit for 'Earth' – is a remote-sensing 3D image portal that promises to take on the likes of popular virtual globe-mapping applications such as Google Earth and Wikimapia. What's more, it is technically superior on paper!
The most interested feature for users will be the ability of Bhuvan to zoom far closer than the aerial view from a chopper. While Google Earth restricts zooming to 200 metres and Wikimapia goes up to 50 metres, ISRO's new technology will be able to render images from up to 10 metres, which means you can easily see details up to a three-floor high building and also add information.
The other important feature is that Bhuvan uses seven satellites (including ISRO's Resourcesat-1, Cartosat-1 and Cartosat-2) to provide images, as well as time-stamping them for multiple views from the same satellite. This provides images from different angles apart from the default top-down perpendicular view, thus enriching the user experience.
"Thus, Bhuvan represents, in essence, the whole of India on your computer. It enables users to fly from space to street level, to grab, spin and zoom down to any place," says ISRO.
Another significant aspect of Bhuvan is that due to its focus on the Indian sub-continent, it will be able to offer better updates of the images. ISRO will update images for the program once every year, as compared to Google's 4-year updates. As it keeps updating its database with more recent and higher resolution images, Bhuvan eventually promises to offer real-time data and images.
The information on Bhuvan will be layered, providing the option of viewing filtered data. ISRO plans to integrate inputs from local players like farmers, fishermen, etc who know the area in and out. This is for the primary reason to make it of more use to the general public.
Of course, while this is plenty of cause to celebrate, ISRO's being an Indian government organisation was stamped in bold letters by the fact that Bhuvan's portal at
http://bhuvan.nrsc.gov.in
has been down since morning. Is this an ominous sign of things to come or just that the servers couldn't handle the tremendous amounts of hits it must have received? We strongly hope it's the latter…
Sat 27 Jun 2009, 12:25 PM | Posted by admin
Tags: Articles, News
Michael Jackson died Thursday afternoon (June 25) at the age of 50 after suffering cardiac arrest.


Reports say the legendary pop singer collapsed and suffered cardiac arrest at his home in the Los Angeles neighborhood of Holmby Hills. A doctor present at the time of the incident performed CPR on the singer but could not revive him. He was not breathing and had no pulse when paramedics arrived after a 911 call around 12:26 p.m. PT. They administered CPR and took Jackson via ambulance to UCLA Medical Center but were unable to revive him.

At the hospital, a team of doctors, including emergency physicians and cardiologists, attempted to resuscitate him for more than an hour, but were unsuccessful. According to Jermaine Jackson, the singer's brother, Michael was pronounced dead at 2:26 p.m.

During a brief press conference on Thursday evening, a visibly shaken Jermaine stepped in front of cameras and said, "This is hard."

After describing details about the incident's timeline, Jermaine closed by saying, "Our family requests that the media please respect our privacy during this tough time. And may Allah be with you, Michael, always."

The exact circumstances surrounding Jackson's death continue to remain unclear. Jackson's brother Marlon told CNN that Michael was not feeling well Wednesday night and a doctor was called to the house. Jackson family attorney Brian Oxman speculated to CNN that the singer's death might be related to the abuse of prescription medication.

Los Angeles Police Department robbery/homicide detectives have begun an investigation into the death, though there is no evidence of criminal wrongdoing. Detectives will interview relatives, friends and Jackson's doctors. The L.A. County coroner's office will conduct an autopsy Friday.

From his early career in the 1970s with his family group the Jackson 5 to his decades-long career as a solo artist, Jackson stood as one of the most successful and beloved pop artists of all time, selling more than 750 million albums worldwide. He won 13 Grammy Awards.

The Jackson 5's first single, 1969's "I Want You Back," hit #1 on the Billboard charts, and the Motown group went on to become one of the most popular acts during the '70s with hit singles like "ABC," "I'll Be There" and "The Love You Save."

In 1978, Jackson joined Diana Ross in the big-screen musical "The Wiz," an adaptation of the Broadway musical based on "The Wonderful Wizard of Oz." His career as a solo artist took off with 1982's Thriller, which stands as the biggest-selling album of all time. Over the course of his career, with hit albums like Bad and Dangerous, Jackson scored five #1 Billboard 200 albums and seven #1 Billboard Hot 100 singles.

But Jackson's career faltered as he suffered several scandalous legal battles. In 1994, he settled a civil suit stemming from child-molestation accusations. In 2005, he was acquitted on 10 felony counts in a child-molestation trial brought against him, including four counts of lewd acts on a child under 14 and four counts of administering alcohol to enable child molestation.

Still, he released a greatest-hits album in 1995, which hit #1 on the Billboard chart, and embarked on a hugely successful world tour. His 2001 album, Invincible, also reached the top Billboard slot; it would prove to be his final studio album.

At the time of his death, Jackson was gearing up for a comeback, rehearsing for a series of 50 sold-out shows in London's O2 arena that would jump-start a world tour, a new album and possibly a movie. In what is believed to be his final public appearance, Jackson showed up at a press conference in London wearing one of his signature quasi-military outfits and announced the initial plan for the concerts. Describing the shows as a "final curtain call," Jackson told the assembled crowd of fans and media, "This is it. This is it! I just want to say these will be my final shows, performances in London. ... When I say this is it, it really means this is it."

Jackson eventually postponed by several days the July start of the O2 shows, raising questions about his health. But after his death, a source close to Jackson told MTV News, "Michael has been in rehearsals. He's been in good spirits. He's been rehearsing eight hours a day for the London concerts."

On June 9, TMZ caught Jackson sitting in a black SUV. Asked if could still do the moonwalk, his signature dance move, Jackson replied, "Why wouldn't I be able to?"

Born on August 29, 1958, in Gary, Indiana, Jackson was the seventh of nine children. He married Lisa Marie Presley - Elvis' only child - in 1994, but they divorced in 1996. The same year, Jackson married Debbie Rowe and had two children before splitting in 1999.

The singer is survived by three children: Michael Joseph Jackson Jr., Paris Michael Katherine Jackson and Prince "Blanket" Michael Jackson II.
Mon 1 Jun 2009, 16:42 PM | Posted by admin
Tags: Art & Culture, Articles, News, Women
People from various walks of life, including ministers, elected representatives, cultural, literate and religious leaders paid homage to poetess and writer Kamala Suraya, when her mortal remains were brought to Kochi Airport today. The casket containing the body of Ms Suraya, which was brought to Kochi in an Air India Flight from Mumbai, was received by Kerala Fisharies Minister S Sarma and Revenue Minister K P Rajendran. Ms Suraya's son Monu Nalapatt, a journalist by profession, his wife Laxmi and Minister, M A Baby, had accompanied the body in the flight. Her another son Chinnan Das, who was also associated with media, and relatives had reached the airport to receive her body. The mortal remains were exhibited before the domestic terminal for the public to pay tributes. Mr Baby, Mr Sarma, Mr Rajendran and another minister Binoy Viswam, District Collectors M Beena and V K Baby, Kerala Sahithya Academy Secretary Purushan Kadalundi, Kerala Sangeetha Nataka Academy Secretary Prabhakaran Pazhasi and Kalamandalam Vice Chancellor, K G Poulose, were among others, who paid tributes to the departed soul.
INDIAVISION.Com Team Pays Home to the Great Poetess, that borns once in centuries.
Cultural Affairs Minister M A Baby today said the body of Malayalam poet Kamala Surayya, who passed away at a private hospital in Pune early this morning, would be cremated with full state-honours on June 2.
Talking to reporters here, he said the body would be cremated at the Palayam Juma Masjid here at 0800 hours on that day. Her family members said she would be cremated at the mosque as per her last wish.
He said the body would be brought to Nedumbassery tomorrow by flight and kept at Ernakulam, Thrissur, Alappuzha, Kollam and Thiruvananthapuram for the public to pay last respects to the departed 'poet of Kerala'.
The body of Kamala Surrayya, who died in Pune early this morning, will reach Nedumbassery Airport at 8 am tomorrow morning. From there, the body will be taken to Thrissur and kept at the Sahitya Akademy Hall for the public to pay homage. It will be brought to Ernakulam and kept at the Town Hall till 1 pm for the people to pay homage. The body will reach Alappuzha and tributes can be paid till 3 pm.
The body will be kept at the VJT in the capital city the whole night tomorrow for the beloved ones to pay homage to the departed soul. On June 2, at 8 am, the body will be cremated at the Juma Masjid in Palayam.